Instagram Stories are one of the most popular features on Instagram. On average, 500 million users worldwide use Instagram Stories every day (Hootsuite).
Unless your company is operating under a rock, you've probably experimented with posting at least a few Instagram Stories. If so, you're on the right track! Facebook Inc. commissioned a survey that found that 62% of people said that their interest in a brand or product increased after seeing it in their Stories.
Many brands use Instagram Stories to post daily content to stay relevant and top-of-mind for their audiences.
While some companies have successfully used IG stories to increase brand awareness, brand loyalty, and conversions, many brands fall flat… Why?
The following is a list of 10 common Instagram Stories mistakes you're probably making (because most people and brands do too). Don't fret! By the end of this blog post, you'll have the information and tools you need to start tackling Instagram Stories like a pro.
1. You treat your Instagram Stories as an afterthought
Instagram Stories seem pretty low-stakes, right?
Stories are typically much more casual than their in-feed counterparts and they disappear after only 24 hours.
But does this mean you can get away without an Instagram Stories strategy? Short answer: Nope!
Let's get real for a second. Yes, Instagram Stories can be produced easily and efficiently. No, this does not mean that you can post lacklustre content and expect a large return.
If you think that Instagram Stories are easy and require minimal time and effort, this is your first mistake.
How to fix it: Be more intentional with your Instagram Stories content
While you should strive to post your more casual content on your IG Stories to satisfy your audience's expectations of this type of content, you still need your IG Stories to capture your audience's attention before they swipe through to the next one.
It's all about finding the right balance. You need to seem casual without actually being casual. You need to seem like you're posting your Stories in the moment without actually posting them in the moment.
Unfortunately for us busy marketers and business owners with a lot of work on our plates, finding the right balance takes time! But if you invest time into ensuring that your Stories have a clear purpose while also finding ways to make the content interesting and valuable to your audience, you'll see a much larger return on your efforts.
2. Your branding is inconsistent or non-existent
Is your Instagram profile a collection of beautiful and cohesive branded content? Great! But do you relegate all of the random content that doesn't fit your brand's aesthetic to your Instagram Stories? If so, you've got some work to do!
While many brands maintain consistent branding in their feed posts, they neglect to carry their branding over to their Instagram stories.
Having a clear visual brand identity is essential because it helps your audience recognize your content. This is especially important for your Instagram Stories. Users quickly scroll through Instagram Stories content often without paying much attention to the brand or person that it belongs to. Your audience will only spend a few precious seconds looking at your Stories as they scroll through, so make it count!
Google Maps is a great example of a brand that keeps their branding consistent in their Instagram Stories:
How to fix it: Maintain your branding in your Instagram Stories
Avoid creating a hodgepodge of random IG story content by maintaining these branding elements in all of your Instagram stories:
Colours
You can choose a few of Instagram's pre-set colours, use the colour picker tool to pull colours from your photo, or use an external editing tool to implement your specific brand colour codes into your design. Choose 1-3 colours and stick to them consistently in every story you post.
Font
Instagram Stories offers several different fonts to choose from. Choose only one font and use it consistently in every IG Story you post to promote a consistent brand identity.
Filters
Using filters is a great way to maintain a consistent visual identity in your Instagram Stories. You can add filters to your story by swiping right after you have created your IG Story content. If you're going to use filters, we recommend choosing one filter and applying it to every IG Story you post.
Brand Voice
While your Instagram Stories should seem more casual than your regular feed posts, your Stories should still maintain a brand voice that is consistent with your typical brand identity.
Is your brand more composed and formal? This voice should still carry over to your tone in your Instagram Stories.
Your Stories should maintain a more casual version of your established brand voice rather than a new voice altogether.
3. You don't use (and hide) your hashtags
Hashtags are great for increasing the reach of your content and making your brand and content discoverable to users outside of your typical audience. You can build community and expand your audience of users with similar interests by using relevant Instagram hashtags on your Instagram posts.
Chances are you've already experimented with using Instagram hashtags on your regular Instagram feed posts, but did you know you can also use hashtags in your Instagram Stories?
Why should you use hashtags in your Instagram Stories?
If you use a hashtag in your Instagram Stories, your story has the chance to be featured in the given hashtag story, which appears on the given hashtag page. Bear in mind that your profile must be public and your story must receive relatively good engagement for Instagram to post it on a hashtag story.
That said, using Instagram hashtags in your Stories is still definitely still worth a try!
You can post up to 10 hashtags in an IG story. While using multiple hashtags may increase the reach of your story, a long list of hashtags can be a bit of an eyesore. Don't worry! There's an easy hack to avoid this: hide your hashtags!
How to fix it: Hide hashtags in your Instagram Stories
You can hide hashtags in an Instagram story in 2 ways:
Minimizing the size of the hashtag text as much as possible and then using the eyedropper tool to match the hashtag text colour to the background colour of your IG Story
Covering your hashtags with a sticker.
This will allow you to take full advantage of hashtags while avoiding any negative perceptions that they may invoke about your brand.
4. Your content is too formal
While you can probably get away with posting polished, formal content on the Instagram feed, the same content won't fly in your Instagram Stories.
Stories are a great tool for making your brand seem more authentic. You can take advantage of Stories to humanize your brand by showing off your personality and taking your audience behind-the-scenes.
We've talked a lot about making your Instagram Stories more casual than your regular feed content, but what does that really mean for your business?
How to fix it: Get real and show your personality
Here are a few ways you could use Instagram Stories to get real with your audience and show off your personality:
Give your audience a tour of your office
Share fun facts about your staff
Take your audience along for a day-in-the-life
Share an exciting new accomplishment
Make your audience feel like insiders by giving them an exclusive inside look into your company. You'll build a stronger community and establish brand loyalty along the way.
5. You don't repost user-generated content
What is user-generated content?
User-generated content (UGC) is content that is created by people who are invested in your brand. Users may comment on their experiences with your brand or promote your products or services to their audience. Unlike paid influencer content, UGC is typically shared by ordinary users who merely want to share their brand experiences with their friends and family.
Why should you repost user-generated content?
Reposting UGC is a great way to boost your brand's credibility and encourage purchasing behaviour.
Every company thinks (or at least wants the public to think) that their brand is the best. This is why people are much more likely to believe that your brand is great if they hear it from another user rather than hearing it directly from you.
Reposting UGC content to your Instagram story is great because it links directly back to the user's post. This promotes authenticity while also ensuring that you give appropriate credit to the original creator.
Reposting content to your Instagram story is also much easier than reposting content to the regular feed because it can be done easily within the Instagram app.
How to fix it: Repost positive mentions of your brand to your Instagram Stories
Did someone tag your restaurant in their IG story and give your food a rave review? Did a user tag your clothing brand in their #outfitoftheday post? Did a client post a before and after photo of their haircut and tell their audience to book an appointment with you for their next cut? Repost! Repost! Repost!
Set Active is an athletic clothing brand that regularly reposts UGC. Check out some examples below:
6. You aren't taking advantage of the features that drive engagement
Instagram Stories features can help you connect with your audience in a way that is not possible on any other medium. Instagram Stories features can help you increase the reach of your content, communicate brand identity, and encourage certain audience behaviours.
If you're not taking advantage of these engagement features, you're missing out on valuable opportunities to engage your audience.
How to fix it: Actively use Instagram Stories features
The following are a few of our favourite Instagram Stories features:
Questions, Polls, & Quizzes
Questions, polls, & quizzes are all great tools to help you interact directly with your audience. Use these tools to promote two-way communication between your audience and your brand. These tools will also help you gain more insight into your audience so you can create more informed content.
Check out this example from Nike:
Swipe-Up Links
If you have an Instagram Business account with 10K+ followers, you can add a swipe-up link to an external website. This is a huge advantage for driving traffic to your website, product pages, or blog posts.
If you have fewer than 10K followers, you can still use this feature to link to one of your IGTV videos.
Check out this example from Glossier:
Post Previews
You can post a preview of your feed posts to your IG Stories to increase the reach of the post. This will help the post to reach people who may have missed seeing the post in their feed. Make sure that you're still adding value to these posts in your Instagram Stories! (See mistake #7.)
Check out this example from our Instagram: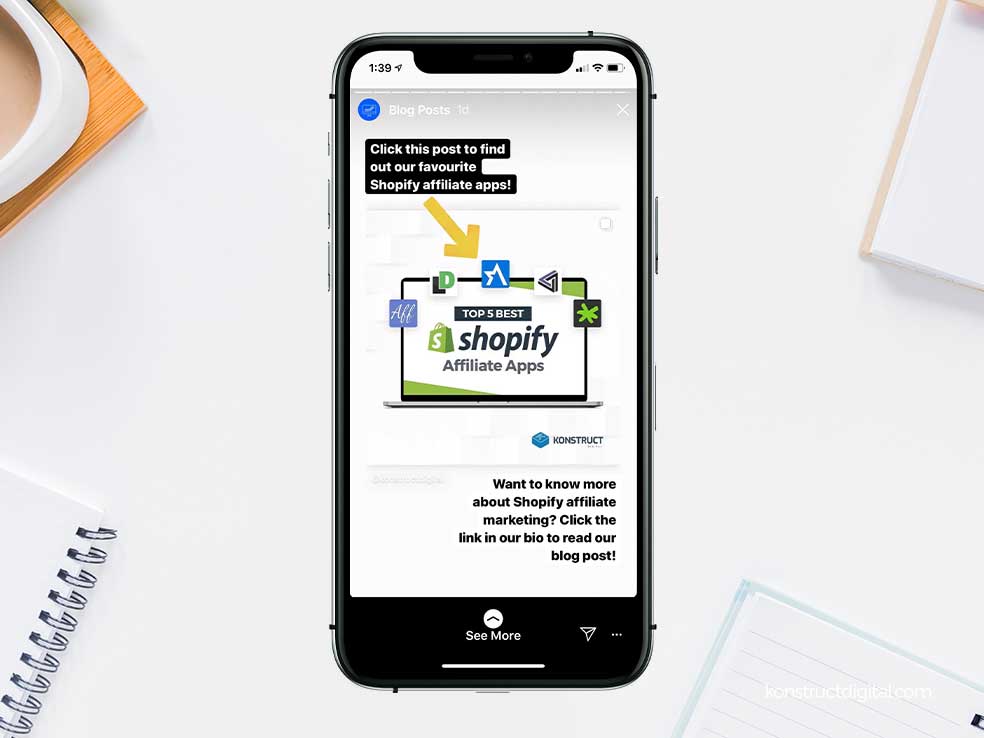 GIFs
GIFs can be used to encourage specific clicking behaviours from your audience. Do you want your audience to use your swipe-up link? Add a 'swipe-up' gif to your IG Stories. Do you want your audience to click on your post preview so they can view and engage with the full post? Add a 'tap here' gif.
Location
Adding a location sticker to your Instagram Stories, like adding hashtags, can increase the reach of your content. You can tag your story with the location of your city or community to potentially have your story posted to the given city or community story on the given location page.
If you have an Instagram Business account, you can also set up a location page for your business so you, and other users, can tag your business as a location.
Check out this example from the NHL:
7. You repost your feed content to your Instagram Stories without adding value
We get it. Reposting your Instagram feed content to your story is a quick and easy way to get more eyes on your post. A quick repost to your story will help your post reach a few more people who may have missed your post in their feed.
The problem with merely reposting your content to your IG Stories is that you miss out on the opportunity to add additional value to your posts or to engage your audience in a different way. While reposting your feed content is great for increasing the visibility of your posts and something you should continue (or start) to do, it doesn't necessarily spark action from your viewers.
How to fix it: Use additional methods to attract and engage your audience
Here are a few ways you can add value to your feed content via IG Stories:
Tell your audience why they should care about your post
Provide a few bullet points on why your post is a worthwhile read. Intrigue your audience, so they want to click on the post to learn more. Convince users who had previously scrolled past your Instagram post to stop and take a second look.
Use stickers to engage your audience in a different way
For example, you could add a questions sticker to find out if your audience has any questions about the content in your post, you could add a poll to ask your audience if they want to see more posts like this, or you could add a slider to give your audience the chance to show you how much they liked your post.
Allowing your audience to engage with your posts in different ways promotes a two-way conversation between your audience and your brand.
Repurpose your content into a different form
Everyone has a preference for how they prefer to consume content. While some people prefer reading written content, others are more likely to consume video content.
Is your feed post text-heavy? Consider repurposing the content into video form to attract and appease a different segment of your audience.
8. You shy away from video content
Online video content is king and it's about time we all accept it! There are plenty of stats that prove that you should be investing more time in creating video content for your brand.
If you have yet to be convinced to pivot to video content, here are a few stats that are sure to change your mind:
Viewers retain 95% of a message when they watch it in a video, compared to 10% when reading it in text. (Insivia)
72% of customers would rather learn about a product or service by way of video. (HubSpot)
Social media posts with video have 48% more views (Hubspot)
How to fix it: Start experimenting with video content in your Instagram Stories
Instagram stories are a great place to start if you are new to creating video content for your brand. The expectation for Instagram Stories to be casual and in the moment means you can (and should) create this content with a smartphone. Even big brands are using smartphones to create Instagram Stories content because it gives the appearance of spontaneity and authenticity.
9. Your video content is inaccessible to users who view Instagram Stories without sound
If you're already experimenting with video content in your Instagram Stories, you're off to a great start! But did you know that you could be accidentally excluding a major segment of your audience?
40% of Instagram Stories are viewed with sound off (Instagram). That means that 40% of your audience is missing your message if you don't caption your videos. As online videos become more and more popular and easily accessible on-the-go, more users are viewing online video content without sound, especially when viewing content in public spaces.
How to fix it: Caption your videos
Add a word-for-word caption or short summary of the audio content in your Instagram Stories videos to keep this segment of your audience engaged. As a bonus, you will also make your content accessible to those in your audience who are deaf or hard of hearing.
10. Your Instagram highlights are outdated/ unrefined
Let's say someone stumbles across your brand on Instagram. They have never heard about your company but they are interested in taking a quick look at your profile to learn more about you.
Chances are they will look to your Instagram stories. Will they be able to quickly find the information they're looking for? If your immediate answer isn't yes, you probably have some work to do.
How to fix it: Ensure that your highlights are informative and up to date
The following are a few tips to help you improve your Instagram highlights:
Add an 'About' highlight
An easy and effective way to give your audience a quick synopsis of your brand is to create an 'About' highlight on your Instagram profile. Tell your audience what you do and why you do it in a quick and digestible fashion. Bonus points if it's a video because, as we already discussed, viewers will be more likely to remember what you say if they watch it in a video.
Add an 'Our Team' highlight
Obviously it is not possible for large companies to feature every employee in their organization, but this is a great way for small businesses to add a human touch to their brand.
Show off the people on your team that make your company great. An 'Our Team' highlight will allow users who come across your profile to immediately feel more connected to your brand.
Delete outdated content
Does your audience have to click through 30 IG Stories in your highlight to view Stories that were posted within the last year?
Highlights are organized in chronological order. Unfortunately, this means it is highly unlikely that new viewers will ever see your more current content if the first IG Story they see in your highlight was posted 103 weeks ago.
We recommend deleting Instagram Stories from your highlights that were posted over a year ago. This will keep your highlights more up-to-date and will allow new followers to browse your more relevant content.
That's a Wrap!
If you're currently facepalm-ing and thinking "why didn't I know this??", don't worry!
There's no time like the present to start taking your Instagram Stories more seriously. Implementing a few changes could help take your Instagram Stories from "meh" to "WOW" in the eyes of your audience.
Do you need some help taking your Instagram Stories to the next level? Contact us today to get started!